Black Haired Girl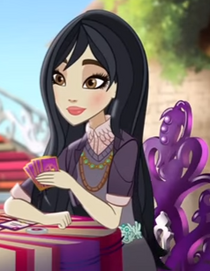 Black Haired Girl has been a common backgrounder at Ever After High since Ashlynn's Fashion Frolic.
Possible Story
Daughter of Princess Kaguya, from the Japanese fairy tale The Tale of the Bamboo Cutter.
Appearance
She has long black hair that runs down her back and frames her lean and pointed face. Her dark sepia eyebrows are thicker than most, and the compliment her light brown eyes. Her full lips are a warm peach pink and her cheeks are lightly blushed.
Friends
She was seen hanging out with Pixie Cut Haired Girl, Orange Haired Girl, Blue and Gold Girl, Golden Haired Girl, Girl in Yellow and Blue Coat, and Princess Wearing Blue and White. She was also seen with one of the Merry Men.
Romance
Like most girls, she is flattered by Daring Charming.
Outfits:Original
Webisodes seen in
Gallery