Girl With Vine Bracelets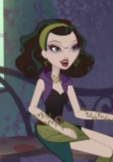 Girl With Vine Bracelets was common backgrounder at Ever After High in The Beginning Webisodes through chapter one.
Possible Story
Daughter of Mother Nature.
Appearance
She has curly shoulder-length black hair, brown eyes and thin-rimmed, oval glasses.
Friends
She appears to be friends with Princess Wearing Blue and White, Grey Haired Girl and Pink and Purple Haired Girl.
Romance
She does not appear to be dating anyone currently.
Outfits:Original
She wears a black jumper with a purple collar, brown belt and a leaf-shaped green overskirt. She has green legwarmers over her brown platform sandals She wears vines around her wrists, neck and skirt, a green headband and vine earrings.
Webisodes seen in
Gallery