Girl in Grey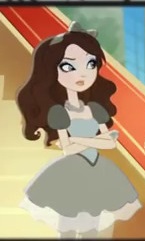 Possible story
She's confirmed as Birch, the next Pitch Girl from the German fairy tale Frau Holle, also known as Mother Holle.
Appearance
She has curly brown hair and grey eyes.
Family
She is confirmed as the twin sister of Grey Haired Girl.
Friends
She was seen with Lilly-Bo Peep in True Hearts Day Part 3.
Romance
She went on a date with White Jacket Boy in Just Sweet and Date Night.
Webisodes seen in
Gallery
Ad blocker interference detected!
Wikia is a free-to-use site that makes money from advertising. We have a modified experience for viewers using ad blockers

Wikia is not accessible if you've made further modifications. Remove the custom ad blocker rule(s) and the page will load as expected.