Orange Haired Prince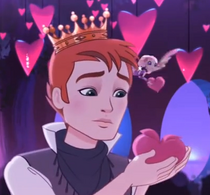 Orange Haired Prince is a common Backgrounder at Ever After High
Possible Story
Son of Giselle, from the ballet with same name.
Appearance
He has orange hair and grey eyes.
Friends
He is often seen hanging out with Grey Haired Girl, White Jacket Boy, and Black Scarf Guy
Romance
In Apple's Princess Practice, he offers Apple an apple for breakfast. He has been romantically involved with Pastel Bun Girl since True Hearts Day Part 3. He was temporarily in love with Red and Purple Haired Girl in Heart Struck.
Outfits:Original
He wears a gold crown and a white shirt under his grey vest, blue jeans and brown shoes.
Outfit:Thronecoming
He wears a black suit with grey on the inside, a white shirt underneath, and a green tie.
Webisodes seen in
Gallery
Ad blocker interference detected!
Wikia is a free-to-use site that makes money from advertising. We have a modified experience for viewers using ad blockers

Wikia is not accessible if you've made further modifications. Remove the custom ad blocker rule(s) and the page will load as expected.