Pixie Cut Haired Girl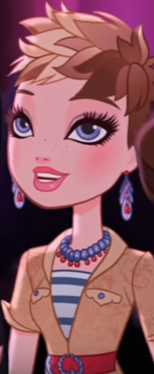 Pixie Cut Haired Girl has been a common backgrounder at Ever After High since Thronecoming.
Possible Story
Appearance
She has blond and brown hair styled in short spikes. Her eyes are a light purple blue in color with dark eyebrows. Her lips are a peach pink, and she had light freckles around her nose.
Friends
She was seen hanging out with Punk Boy. She also has been playing cards with Black Haired Girl. 
Romance
In Heart Struck she was temporarily in love with one of the Merry Men.
Outfit:Original
She wears a light brown jacket on top of a blue and white striped dress with a red belt, black tights, blue high heels,a beaded blue necklace with red beads at the bottom, and red and blue earrings.
Webisodes seen in
Gallery
Ad blocker interference detected!
Wikia is a free-to-use site that makes money from advertising. We have a modified experience for viewers using ad blockers

Wikia is not accessible if you've made further modifications. Remove the custom ad blocker rule(s) and the page will load as expected.