Blondie Lockes is something of a perfectionist, always looking for something "just right." She is Ever After High's authority on gossip and the go-to-girl for news. She even produces and stars in a news MirrorCast, Just Right. Blondie sides with the Royals, although she has some insecurities about her destiny and her royal status. She claims not everyone knows her story, but that she is a Royal. She does tend to exaggerate and stretches the truth at times, which could be seen as a perfect journalist quality.
Blondie and Apple share a friendly and simple relationship. Blondie shows exceeding support towards Apple in the Royal/Rebel conflict, and Apple appreciates it from her BFFA. With Blondie's support, Blondie shows that she admires Apple more than the other students. Blondie and Apple are both BFFAs with Briar Beauty as well.
"Blondie, just because I don't have an opponent doesn't mean I don't get to work my crown off!"
―Apple to Blondie.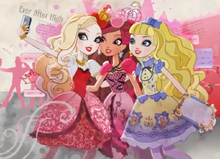 Briar and Blondie share a friendly and simple relationship. Although the two have never really interacted together in the series, they appreciate each others' company in the books and Briar claims that Blondie is also her BFFA. Before school started, the three BFFAs Mirrorchatted with each other.
"She's sweet as sugar in porridge, though I wish she would stop claiming that her mom, Goldilocks, is royalty from a land far away."
―Briar explaining Blondie's tales.
Blondie and Cupid are BFFAs and roommates. Although Cupid came to Ever After High to replenish the hearts of the students, Cupid made good friends, such as Blondie and the two became friends quickly. Cupid comforted Blondie in "Blondie Branches Out", advising her that her destiny is her choice, as Royals make choices as well.
"If you know in your heart that you're a Royal, then you need to tell the world!"
―Cupid to Blondie.
Blondie appeared to show no faith or trust whatsoever in Cerise for a period of time, but she later apologized for posting lies about her via her MirrorCast Show, mentioned in Blondie and Cerise's diaries. Cerise soon forgave her, and they currently are friends.
"She's always sneaking around like she's hiding a secret."
―Briar to Blondie about Cerise.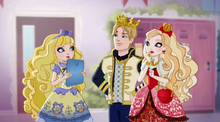 Blondie appears to have a small crush on Daring, as she was seen giggling as he passed her. Although Blondie is well aware that Apple and Daring aren't dating yet, she is still faithful of their blossoming relationship, as she believes that the two are "a perfect couple" and are "just right". The two still deny their relationship, however, a variety of girls have a crush on Daring as well. However, as stated in Blondie's profile, she is still waiting for a prince that's "just right" for her.
"Charm you later!"
―Daring to Blondie.
Dexter and Blondie appear to be on good terms, as Dexter often acts as the cameraman of Blondie whenever she does a MirrorCast. Her MirrorPad is often broadcasting off big screens. However, Dexter and Blondie have not really (directly) interacted throughout the series.
As a new student, Blondie plays her part as a welcoming and kind student. She shows her kindness by inviting Holly to sit with her and the other Royals at lunch time and supports her. Blondie also seems to know well of Holly's whereabouts and well-being, mentioned in Poppy, Holly's twin sisters' diary. Blondie did so by reporting Holly's hair growing out of control, and she was very worried.
Poppy and Blondie are good friends. Blondie values and admires the loving sisterhood of the two, thus urged Poppy to return to Ever After High (after Poppy's sudden disappearance) and rescue her sister. With a bad fate turning out to be Holly's, the Rapunzel story could close.
Blondie, like Apple, is worried of where her friend would stand in the Royal and Rebel conflict. Blondie showed great care such as defending Ashlynn and Hunter's reputation. She did show great dismay and disbelief in Hunter and Ashlynn's relationship at first, but Ashlynn soon left the Royals and became a Rebel for Hunter, in "True Hearts Day Part 3".
"But...how can you be a Royal and date Hunter?"
―Blondie to Ashlynn.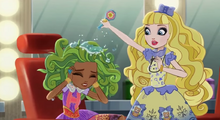 Cedar and Blondie appear to be acquaintances. Although Blondie believed that her hypothesis wasn't correct, she continued to use troll tears on Cedar. The Headmaster switches them back, rejuvinating Cedar's hair in "Blondie's Just Right".
"Blondie, stop it!"
―Cedar to Blondie.
Blondie and Duchess have a neutral relationship. Prior to being a (slightly meddlesome) reporter, Blondie is still willing to defend her friends in order for their reputations to be saved. Duchess, thought otherwise, as mentioned in "True Hearts Day Part 2".
"I don't know Duchess; it is a bombspell but - Ash and Hunter are my friends!"
―Blondie to Duchess.
Blondie and Lizzie appear to be acquaintances, as they are seen in the front of the school together in "Here Comes Cupid". They also play croquet with Apple and Briar in Lizzie Shuffles the Deck.
"OK! This is so, not just right. We quit."
―Blondie to Lizzie.
As Blondie notified everyone of where her next review will be, as Madeline quaked in fear of her family's tea shoppe. Not knowing of what to do, her friends decided to tone down the wonder of the tea shoppe, which upset Madeline. Once Blondie arrived, she was seemingly unimpressed, which annoyed Madeline. Later on, the tea shoppe impressed Blondie by revealing its true self, all in "Once Upon A Table".
"I'll be reviewing that Book End favorite: the Wonderland Haberdashery and Tea Shoppe!
Blondie Lockes is coming here? She's the toughest critic ever after!"
―Blondie's announcement
Blondie and Raven have a neutral relationship.They are barely friends, because they interacted in Just Sweet, but Raven was annoyed at Blondie's need for boy perfection.
"Blondie..."
―Raven losing control of her powers
Ad blocker interference detected!
Wikia is a free-to-use site that makes money from advertising. We have a modified experience for viewers using ad blockers

Wikia is not accessible if you've made further modifications. Remove the custom ad blocker rule(s) and the page will load as expected.