Cerise Hood is a mysterious girl and she wears her hood to hide her werewolf ears. If people make her mad or aggravated, she will briefly show some of her werewolf self, her eyes will flash yellow and she growls. This may also happen when she is surprised.
Cerise and Cedar have shared a close friendship in the series. The two constantly got along, however Cerise gets self-conscious whenever Cedar asks her questions, as Cedar doesn't know of her secret yet, as Cerise remains diligent, even to her friends. In the books, Cedar also states that Cerise has never really talked to her or taken off her hood ever since they started rooming together.
"From the first time I met Cerise last year, I assumed she'd become our friend, too, but I still don't feel like I know her at all.
Listen to this, Cerise Hood. Cedar Wood. Cerise Hood. Cedar Wood. Cedar, you and Cerise have to be friends, or your names will get mad and just march right off you!"
―Raven and Maddie to Cedar.
Blondie has always been suspicious of Cerise. Though the two are now friends, Blondie's suspicions of Cerise haven't slipped away. Due to her curiosity, Blondie used to tell her friends (and Cerise's) to ask her well-being and whereabouts related questions. Cerise initially thought that something was up, especially when Blondie encouraged her friend and roommate, Cedar Wood. Although the two are good friends, Cedar cannot keep a secret, thus can be easily used by Blondie anytime. However, the two have not directly interacted in the series. Blondie even went as far as spreading rumors on her Mirrorcast the Cerise was trying to ruin Legacy Day. But after Cerise runs away in tears, Blondie confronts her saying "Cerise, I was just wrong. I though I was saving Legacy Day, but I never got the whole story. I-I'm sorry.'' She then tells Cerise she'll post a new Mirrorcast telling everyone the truth. Cerise thanks her, but explains she dosen't want anymore attention.
"True to her Goldilocks' roots, Blondie always walks into places she doesn't belong."
―Cerise's summary of Blondie.
Kitty and Cerise have been major rivals, and Kitty continues to treat Cerise that way, or completely ignore her. Kitty once tried to tell everyone about her secret in "The Cat Who Cried Wolf", luckily, Raven Queen immediately came to Cerise's aid.
"You beat that wolf in a race! How do you do it? I'm all ears."
―Kitty confronts Cerise of her secret.
Madeline and Cerise appear to be close friends and allies. Although, Madeline continues to be oblivious to Cerise's secret, despite Cerise deliberately showing her werewolf ears. Madeline called them fake silly wolf ears, but they managed to save Wonderland Grove.
"Maddie has always been wicked nice to me..."
―Cerise's summary of Maddie.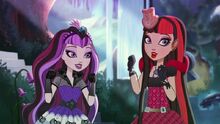 Raven and Cerise are best friends. Unlike Cerise's other friends or rivals who do not know of her secret, Raven is willing to guard Cerise's secret. Cerise knows that true friends such as Raven should not be looked down on or misunderstood and Raven believes that Cerise is doing the right thing when she became a Rebel.
In "Maddie's Hat-Tastic Party", Raven encouraged Cerise to boost the madness level higher using her wolf ears, and this was the first time Cerise deliberately took her hood off. Luckily, everyone thinks that her wolf ears are fake, saving her reputation thanks to Raven again.
"We're your friends, Cerise."
―Raven reassures Cerise.
Briar and Cerise have shared a brief relationship in the neutral section. The two have never really interacted in the series and Briar only asked Cerise due to Blondie's snooping. Of course, Cerise was able to sense she was guilty.
"We both know the school would never let a non-royal plan the dance."
―Cerise rejects Briar's offer.

Cerise and Dexter share an acquaintance. As seen in Ever After High's videos, Cerise and Dexter appear to be friends as they are seen together in a group as in Maddie's Hat-Tastic Party. In Cerise's Picnic Panic she bumps into Dexter and catches his specs for him. In Thronecoming when Cerise suggests to the boys that she'd try out for the Bookball team, Dexter thought is was a good idea.
"Oh, well, that sounds good-"
―Dexter's reaction to Cerise wanting to join the Bookball team.
Holly and Cerise share a brief acquaintance, then neutral relationship. However, Cerise had a short temper when dealing with Holly, who was curious of her destiny which annoyed Cerise. Cerise simply dissed her and walked away.
"JUST DROP IT!"
―Cerise dissing Holly.
It is probable Cerise has a crush on Daring, although Daring hasn't taken any notice of Cerise until Thronecoming.
Ad blocker interference detected!
Wikia is a free-to-use site that makes money from advertising. We have a modified experience for viewers using ad blockers

Wikia is not accessible if you've made further modifications. Remove the custom ad blocker rule(s) and the page will load as expected.