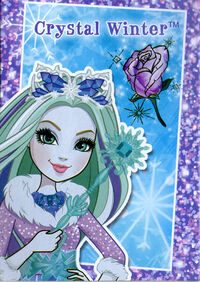 The Winter Rose
Within each fairytale grows a special flower that encourages every story's enchanting power.

It's a rose representing most spellbinding thing, like adventure or wonder or summer or spring. The magic gets stronger as each story grows, as long as it's connected with the famed Winter Rose. With love, the Winter Rose will forever blossom, so the story needs a princess who's wicked awesome!
Ad blocker interference detected!
Wikia is a free-to-use site that makes money from advertising. We have a modified experience for viewers using ad blockers

Wikia is not accessible if you've made further modifications. Remove the custom ad blocker rule(s) and the page will load as expected.