Dragon Games:Powerful Princesses And Their Dragons is the fifth clip in the Dragon Games episode selection.
Summary
The new Generation of teams take the field at Dragon Games! Featuring the new song, Shining Bright.
Transcript
Blondie Lockes: The teams will now take the field!
Lyrics: Looking for my Ever After
Don't wanna see my dreams get shattered
Everybody says I have to, got to, wait around just to be rescued

Not gonna sit alone in a tower
I'll show the world my princess power
Standing up and I am stronger
Listen to my heart 'cause it's getting louder

This feeling inside
It's coming alive
No more waiting now

See the fire in our eyes
It's burning brighter
Let go of the fear and fly
Higher and higher

Rise up - the sky's the limit now
At Ever After High
Oh oh, oh oh oh oh oh
Power princess shining bright

Gallery
Webisode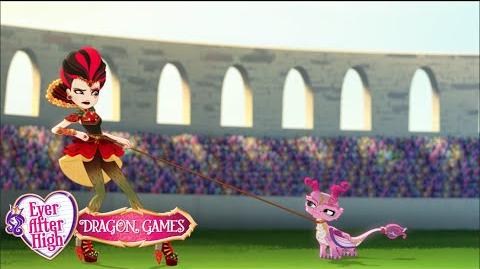 Ad blocker interference detected!
Wikia is a free-to-use site that makes money from advertising. We have a modified experience for viewers using ad blockers

Wikia is not accessible if you've made further modifications. Remove the custom ad blocker rule(s) and the page will load as expected.