Hagatha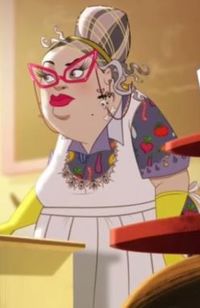 Ever After High Lunch Lady
Hagatha is the lunch lady at Ever After High. She works in the Castleteria and also prepares food for Thronecoming in the Grimmnasium. She's likely the Old Woman from the fairy tale Stone Soup, which is her specialty.
Personality
Hagatha seems quite grumpy and has a tendency to get angry when the Billy Goats Gruff steal food. She has been seen to smile in Thronecoming.
Appearance
Hagatha wears pointy pink glasses with a scruffy chain. She has grey hair messily tied up in a bun and she wears a hair net. Hagatha wears a grey/lilac short sleeved dress with food and bug motif design, covered with an off-white apron that has bug lace trim and yellow washing-up gloves.
Name
Agatha is a Greek name meaning good and a hag is a wizened old woman and are often seen as malevolent. The name Hagatha is likely the joining of the two names, hag and Agatha.
Trivia
Gallery