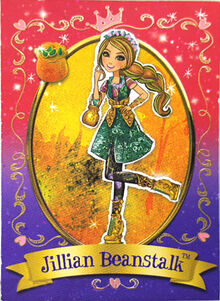 Fee-fi-fo-fum, she is acrobatic, courageous, fearless, and fun! Jillian's story is full of heart-racing adventure, from sneaking through treasure rooms to running from giants. But this fairytale daredevil knows there are more thrills out there to be had, from competing in hextreme sports to discovering new beanstalks to climb.
Ad blocker interference detected!
Wikia is a free-to-use site that makes money from advertising. We have a modified experience for viewers using ad blockers

Wikia is not accessible if you've made further modifications. Remove the custom ad blocker rule(s) and the page will load as expected.