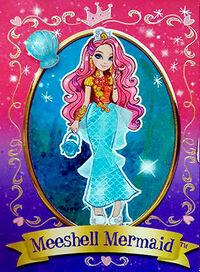 As the new kid in an ocean of spellbinding students, one might think that shy Meeshell sometimes feels like a fish out of water. But this talented singing star is starting to come out of her shell. When it comes time to take center stage, this theater girl will really find her voice (though she is very careful not to lose it).
Ad blocker interference detected!
Wikia is a free-to-use site that makes money from advertising. We have a modified experience for viewers using ad blockers

Wikia is not accessible if you've made further modifications. Remove the custom ad blocker rule(s) and the page will load as expected.