Peter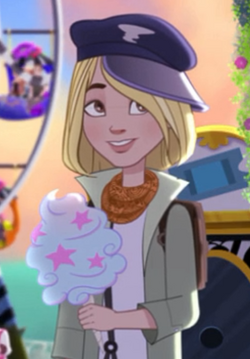 Son of The Hero of Haarlem
Peter is the son of The Hero of Haarlem from the story of the same name that is within the novel called The Silver Skates or Hans Brinker written by Mary Mapes Dodge. The story, The Hero of Haarlem is about a Dutch boy who saves his country by putting his finger in a leaking dike and he stays there all night, even though it is cold, until the adults of the village find him and make the repairs to the dike. The story is possibly from a fictional and unidentified story by French author Eugenie Foa.
Personality
Peter likes to plug holes and has a job plugging holes at the Beanstalk Bakery. He is dedicated to his work, but is also easily distracted which can have disasterous results.
Appearance
Peter has golden blonde hair and brown eyes. He wears a navy blue peaked cap, a green coat over a lilac shirt and an orange neck kerchief. Peter also wears three quarter length brown trousers with braces to hold them up and yellow clogs with lace detail. Peter carries a rucksack on his back and also wears a silver ring on his right hand that resembles a bolt.
Name
It is unknown why he is called Peter as in the book Hans Brinker, the boy and the story are called simply "The Hero of Haarlem" but Hans Brinker's name has sometimes been associated with the character.
Family
He is the son of The Hero of Haarlem from the story of the same name.
Friends
We know that he is friends with Lilly-Bo Peep and they like to eat hot dogs together.
Romance
Nothing is known about any romance at this time but he does swoon when he sees Apple White.
Pet
Nothing is known about any pet at this time.
Trivia
He works in the Beanstalk Bakery at Ever After High plugging the holes in the coffee machine.
In An Hexclusive Invitation, Faybelle Thorn calls Peter, "haircut boy".
When Peter works at the Beanstalk Bakery he wears a maroon with pink trim peaked cap, a pink short sleeved t-shirt with pale pink collar and sleeve cuffs, a green leaf style neck tie, black three quarter length trousers and a pale blue apron with pink and purple trim.
Gallery
Disclaimer:The info on this page was taken from a source that was thought to be official, but is now thought to be fan based.
Ad blocker interference detected!
Wikia is a free-to-use site that makes money from advertising. We have a modified experience for viewers using ad blockers

Wikia is not accessible if you've made further modifications. Remove the custom ad blocker rule(s) and the page will load as expected.