Previously On Ever After High... Way Too Wonderland is the first webisode from the Way Too Wonderland webisode selection.
Summary
Coming Soon.
Transcript
Brooke Page: OM Fairy Godmother. You've never been to Ever After? Oh, well hold onto your crown for one hexiting ride. Ever After High is a high school for the next generation of fairytales. Each student is charged to follow the footsteps of their fairytale parents, ensuring their classic stories will continue to be told.
Until this once-upon-a-time, on Legacy Day, Raven Queen, daughter of the Evil Queen, did the unthinkable, the impossible, she refused to follow her prewritten path and didn't sign the Storybook of Legends. Now, no-ones destiny is safe!
But it wasn't all bad, hex this out! Cupid found a lost holiday. It's called True Hearts Day and it makes Valentines Day seem sooo laast chapter.
Back to the Storybook of Legends. It turns out, the one Raven didn't sign, was a fake! And during the big Thronecoming festivities, our fab fairest must find the real one before it falls into the wrong hands!
Lets just say that Briar finds it and decides she doesn't want to sleep for a hundred years and throws it down the well.
And get this hexcellent twist, the Storybook of Legends landed in Wonderland. Two lost friends tried to return it, but during their journey, the Cheshire Cat swaps it with a big book of tricks that turns everything upside down at the annual spring fair, and the wonder of Ever After High is at risk. Finally, working together, our girls are able to reverse the curse and save the school. But, the fate of Raven and the Storybook of Legends is still up in the air, and there's only one place where this mystery can be solved. Wonderland.
Gallery
Webisode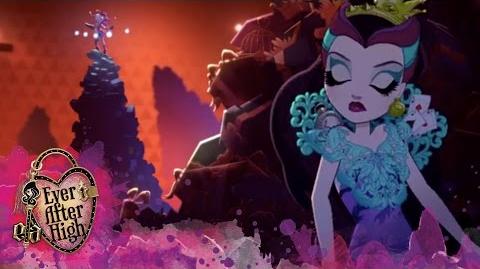 Ad blocker interference detected!
Wikia is a free-to-use site that makes money from advertising. We have a modified experience for viewers using ad blockers

Wikia is not accessible if you've made further modifications. Remove the custom ad blocker rule(s) and the page will load as expected.